The Man behind the game Peadar Ò Tùatain
Category : Player Profiles | Sub Category : Featured Players Posted on 2021-02-14 22:33:10
---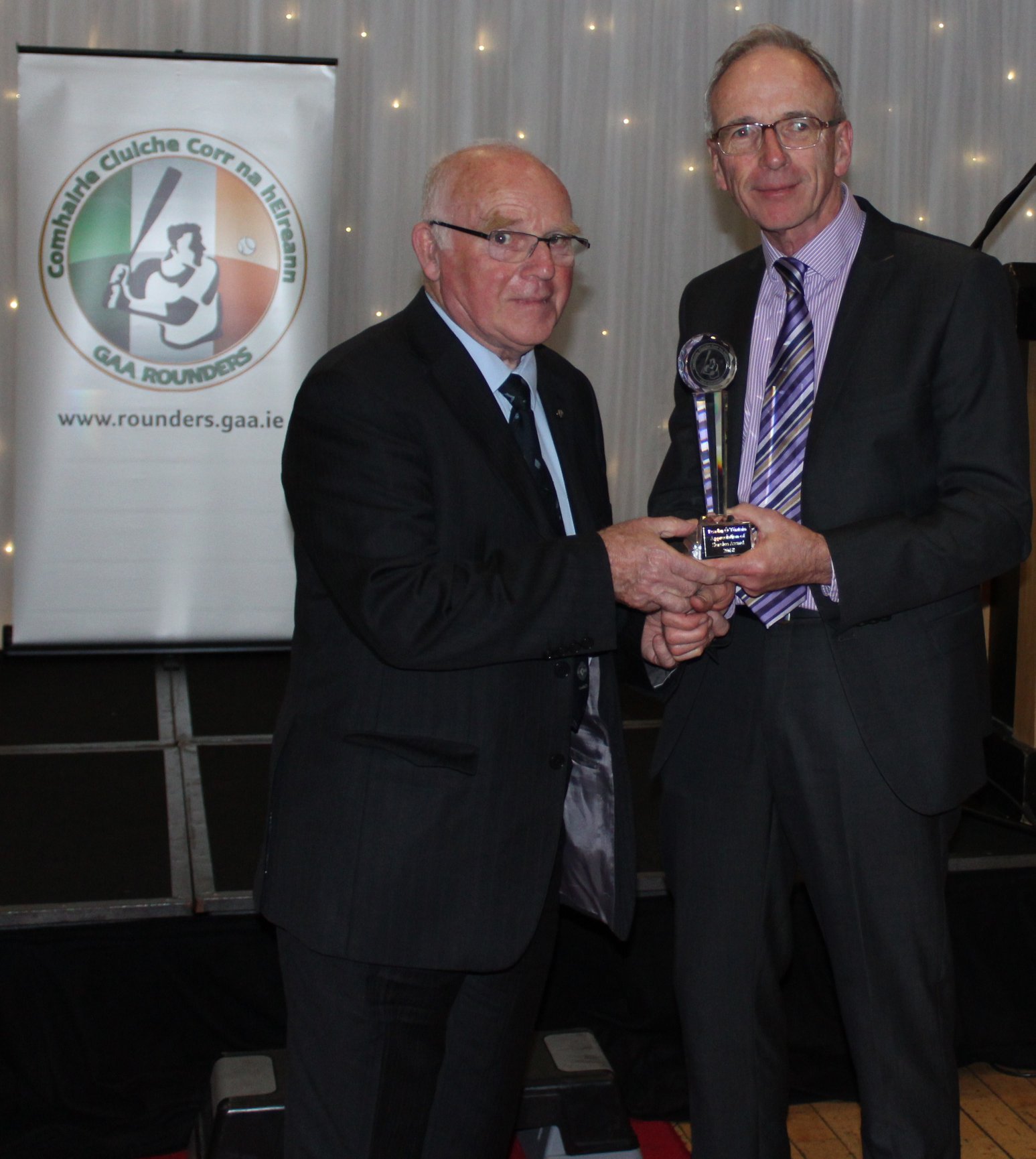 This week we catch up with Peadar Ó Túatain, a man who's spent a life time at the center of GAA Rounders.
The former secretary has coached and promoted the game for over sixty years throughout the whole country and his appetite for the game has never dwindled in that time
R.K: So, tell us Peadar, how did it all begin? Where did you get the idea and indeed the necessary accessories at the time?
Peadar: I 'discovered' Rounders Rules in the GAA Official Guide and immediately saw the potential of the less physical aspect of this GAA field activity.
Initially I was guided by the Rules in adapting the ball, bats, and the 'bases'.We started with a half solid rubber (Tennis) ball, received a Softball and a baseball bat from the USA navy in Derry and after two seasons settled on the sloitar. Interestingly the Softball people had organised around the same time as the Camogie Association whose 'sliotar' was much bigger than the current hurling ball. It didn't take much imagination to conclude that the two balls were very close in size and weight (almost identical).
R.K: Did you have much help in the beginning? You've done a lot of work over the years whether it be promoting, coaching, playing or organising competitions. What gave you the appetite for the game?
Peadar: There wasn't a lot of help at the start, but there was great enthusiasm - nothing negative. The immediate response in the children and the teachers was very encouraging, and the recurring challenges led to almost continuous sense of achievement as the rules had to be modified and turned out to be successful. Easy on matches could last up to an hour, in schools. some teachers requested a change to allow for school bus schedules. We very quickly learned that the number 'outs' up to nine, needed attention and the number three was readily accepted (Baseball is based on three outs.)
R.K: Did you find it difficult in the beginning to get people involved? What's your 1st memory of playing the game?
Peadar: When inviting new players, it was useful to let people watch the plays and they very quickly got in on the game. As the years provided for more players different age group were defined and people on the sidelines wanted to join in, even if they were feeling too old or too young. Since club activity was based on males mainly, a decision was made to provide for females who were at the time not too well catered for. The biggest obstacles were occasionally the involvement of elders who recalled local parish rules.
Personally, I would regularly have to demonstrate how a hurler would hold and swing the bat. Before I knew it, I was actually head over heels into match play.
RK: What did you enjoy most in your work as GAA Rounders development officer?
Peadar: During official matches, or coaching activity very shy or physically underdeveloped players.
Youngsters even teenagers would elect to opt out of playing. However, a few words of encouragement and simple instruction reversed the candidates' attitude and the fun would be magnified for everybody
R.K: You've been immersed in the game for over 50 years and you've seen a lot of changes over them years. What was the turning point for the game in general in terms of the game fulfilling its potential?
Peadar: The introduction of a club championship and along with that league structures made for a major step forward. An unofficial series of matches was organised to give new or isolated units competitive sporting events. These were based on teams traveling out of Ulster to Munster and Leinster, leading to a full program of virtual National League.
In the mid 1970s, a senior Ladies semifinal (Arravale Rovers, Tipperary and St. Mary's Rasharkin, Antrim) was fixed for Croke Park but a football match was doubled booked and the Rounders match was abandoned. As a result, Croke Park granted a sum of money for promotion of Rounders. That meant that there was now money in the "kitty".
R.K: What was the most difficult part of your work promoting the game?
Peadar: Competition for grounds and dates was always a problem. Few clubs had a free member who might dedicate time and effort to this "new" activity, which meant searching for committee members who were fully informed about available arrangements.
R.K: Who was the greatest player you have seen play the game and why?
Peadar: There have been many excellent individuals who stood out for different reasons. The nine different team positions often flag a star performance, not always from anticipated outcomes. Shy and weaker players often equal the best experienced players.
R.K: Who was the greatest team you've seen play
Peadar: In male teams current All Stars or All Ireland Champions in any decade might qualify.
Plunkett's Pomeroy (Male) (Tyrone) still evoke good memories. Castlebar Ladies (Mayo) took some beating. They were all very athletic. I would always look forward to pairings of Pomeroy and Erin's Own (Antrim) in the men.
R.K: what was the greatest asset you would look for in a player?
Peadar: Sometimes the best player is not the good all-round athlete. Putting the tallest player to first base increases the chances of a fielder delivering the ball into the hands of the base minder. Having a good account of a panel of players should allow me to recognise the good all-round steady player, who is dependable play after play.

R.K: in 1976 our first All-Ireland final took place at senior level do you have good memories of that day?
Peader: Yes! The standard of both teams was very high, with a short championship season and few matches. Both sides were completely un-known and therefore had great respect for each other, to the extent that each team had to play their best.
R.K: What was your favourite place to go coach or play?
Peadar: Most clubs hosting a coaching session offered a good atmosphere very good playing conditions and usually refreshments on top of well-behaved youngsters. My local clubs were well disciplined and well supported. I'm not sure I had any serious favourites, but Erne Eagles were very high on the list with Kildress Wolfe Tones, Tyrone matching the hospitality of St. Martin's of Derry. Yet every session in every club was unique and took our coaching efforts really empathetically.
R.K: What's your thoughts on today's game has the game changed much in your opinion?
Peadar: The GAA rules from early twentieth century weren't very detailed and quite few debates enlivened our Rounders AGMs. Too many changes, while legally presented, offered golden opportunities for structuring and simplifying what was for the best of the game.
R.K: What tournament would you like to see return and why?
Peadar: We have team trophies for National leagues and Inter Provincial tournaments. These could be revived to every body's advantage; and I think it would be no harm to review all under age events. Too few officers and members took the representative tournaments anywhere near serious. To me these were the most sporting efforts which brought players in from the heat of the Championships.
R.K: What was the goal for you as a man promoting and developing a minority sport?
Peadar: I always felt that Rounders and Handball were Cinderella activities, to too many Association committees and offices. I longed to see every match on the field played in very much a sporting atmosphere; endnote so much for the glory, and the winning.
R.K: What was the best game you ever saw played?
Peadar: Each match was a 'great' match but I'll never forget the 1976 Ladies Final between Erin's Own Antrim (16) and Erin's Own Derry (5). Played in An Uaimh over seven innings, with presentations done and the field cleared inside one hour. Usually, a standard match over five innings takes about one hour and seven innings seventy-five minutes.
R.K: What was your highlight to date?
Peadar: There was a time when we could schedule Rounders in Croke Park. It was great to get back in there with an exhibition match.
R.K: in 1997 your own club won the mixed and Mens championship that must have been a really proud day?
Peadar: We had reached a stage in practicing all aspects of the game with regular almost daily sessions lasting as long as 90 minutes, with a strong panel of dedicated players. On the day the whole team reached perfection, to the extent that the opposition looked quite weak. If I remember correctly, we conceded at least one inning, to give the other team a chance of getting some extra scores, for at the look of the scoreboard. When the final play was a made there was no 'triumphalism', only a good sporting handshake. I was proud of the youngsters at the end, because they had demonstrated a confidence and sporting attitude throughout bot matches. I must add that the panel regularly attended practices without me and played a full session learning and having fun.
R.K: Who was the best Referee you've seen?
Peadar: I have no hesitation in nominating Seán Hughes for that accolade. From the start he was attentive to all the signs and signals on the field. Many have tried to emulate Sean's behavior behind the catcher, but there always seemed to be something missing in their full application of the rules and observations.
R.K: What was your biggest achievement within the game?
Peadar: A number of events illustrated the potential of Rounders to be a very much enjoyable team, field, fun game. Important lessons were learned when trying to organised overseas or International events, and even coaching or introductory 'matches' in Ireland. Commitment in host clubs or organisations nearly always was quite weak. Achievements depended on persistent and regular communications, and despite the potential for failure, the sun would shine on everybody; and the real potential of our game would be demonstrated.