2020 Season Reviews Glynn-Barntown Co Wexford
Category : Archive | Sub Category : Archive 2020 Posted on 2021-01-05 23:31:37
---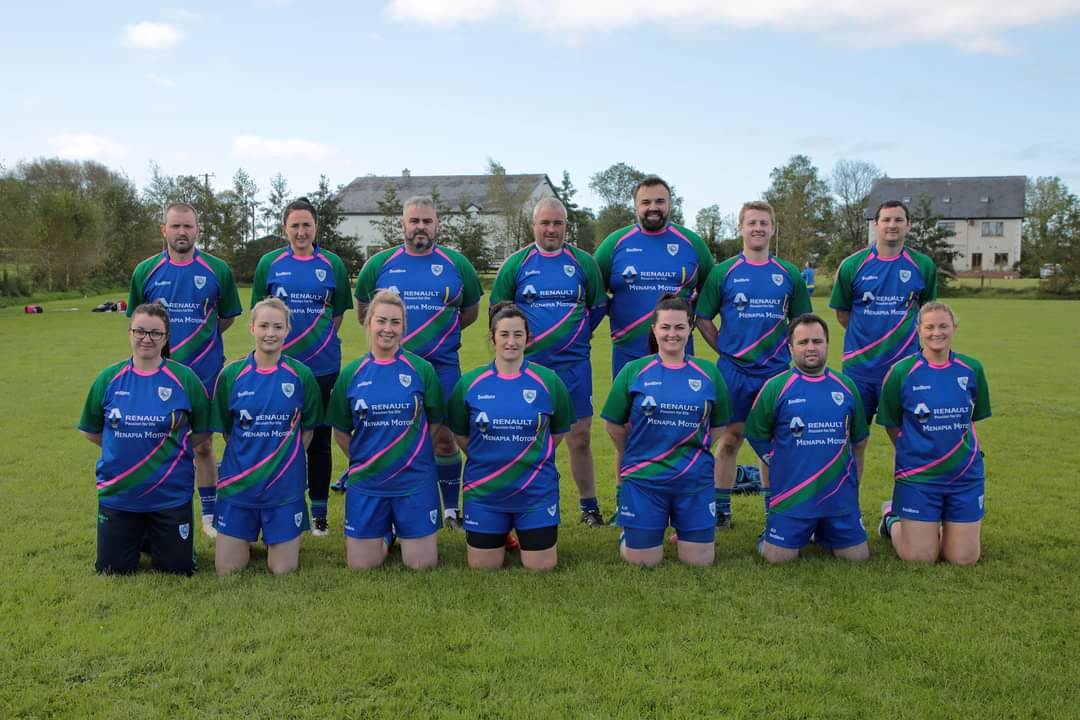 GLYNN-BARNTOWN 2020
It seems like an age ago that this year started with such enthusiasm as we sat around a table extremely excited to be holding a bag packing weekend in the local Tesco to raise money for our club and to arrange getting back out on the local astro-pitch in Barntown. That was February 2020. We were disappointed that we would have to separate our training nights as we were in a brilliant position of growing numbers in the club. This is a new situation for us as for a long time we struggled to field 9 players let alone have some to spare!! But this was what we would do, different nights for the different teams Barntown Gaels, Glynn-Barntown Mixed, Ladies & Men just so everyone could get a fair training night. We were delighted to be giving out our new kit.! How everything had changed over night.
Our next meeting consisted of designating Covid Officers for each team, making sure we had hand sanitiser, running through the requirements that had been set out by the GAA and making sure we met them. But most importantly, making sure that our club members were ok, staying in touch with each other and keeping a close- knit bond through what were very strange times. We made the collective decision to enter the competition and everyone's concerns were aired and addressed as best they could be as a club we have to thank our Covid officers, Linda Dempsey, Paul Cooper & Sinead Boland, who all stepped up and gave their time and effort to make sure that we as a club did everything we possibly could to comply with regulations and keep our team mates & extended families safe! Ye did a stellar job guys and we cannot thank you enough. Our first outing (a little later than normal) was on 2nd August where we had a local derby with Barntown Gaels and GB Ladies going head to head. The Gaels started the match in a whirlwind and were leading nicely after the first few innings. Their fielding was superb and really couldn't be faulted as the GB ladies struggled to get the runs in! That changed further through the innings where GB Ladies pulled back the score and went in to the lead, a few more runs than the Gaels could answer. The score did not reflect the match in any way shape or form as it was much closer that the score line suggests.
Next the GB Men & Mixed team had a day out in Tymon Park, hosted by Limekiln Rounders Club who hosted a great amount of matches this year which was very much appreciated, against Skryne, First up was the men's match which was a nail biter. There was nothing between the two teams really, it was tit for tat. The guys fielding was a bit more on point and possibly just gave them the edge over a new Skryne team which saw them come away with a win 22-19. Next up was the mixed team who seemed to carry on from their All Ireland win last year. We were in a great position that we have a few more players this year to play mixed and we were able to really shake the team up. The mixed team came away with a win of 39-4.
On the 23rd of August all our players made the long journey to Co. Longford where our club played 4 matches between 2 different pitches. First to the pitch was Barntown Gaels who played Michael Glaveys from Roscommon. It just wasn't to be for the Gaels who lost out 24-9. The GB ladies then played Michael Glaveys also.
Again a tough match with very little runs scored but the ladies managed to get the win with a score of 9-3. The Gaels then went on to play their best match of the say against Breaffy of Mayo. The girls played out of their skin and didn't let the Mayo ladies have it all their own way. They showed how they can play and didn't go out without a fight. The score line didn't go their way, but they were happy with their match which finished 11-2. The best match of the day was the GB Men who played Carrickmacross. Both teams really pushed each other right to the end and either really could have come away with the win. They needed to be happy with a draw of 9-9 in the end (which would eventually see both teams face off again ... at some stage !!) The 6th of September saw all three GB teams travel to Laois to play Breaffy. To say all three matches were closely contested would be an understatement. The score line for each match speaks for itself as each team fought right to the end. Glynn-Barntown came away with 3 wins on score lines of Ladies (9-8) Men (11 - 9) & Mixed (8 - 7). It was an incredible day of rounders with some of the best fielding and batting you would see from any team. These matches would see our Ladies and mixed teams finish top of their group tablets and go through to the semi finals. Our men had one more match to face against the reigning champions Erne Eagles of Cavan. This match would take place back in Laois again on the 20th of September. We all bundled in to our cars and made the journey again. The men had been waiting so long to play this match and to show what they could do. It was a chance to play the best of the best, a team around for years, a team who make playing look easy. The men went out there with their hearts on their sleeves and played like their lives depended on it. They showed how they can play and that they are able to play with the best. It was a hard match to play but an even harder one to watch!! With all eyes on this game, even from other teams, the excitement was intense. In the end of the GB men were able to pull a win out of the bag 22-18, knocking the reigning champions out of the league and finishing top of the table.
This set up Semi-Final meetings with Limekiln in the mixed and men's matches and Erne Eagles in the ladies. a bitterly cold morning brought us back up northward to Clonguish GAA pitch. The men were first up (thankfully as I don't know how the ladies would have faired with the hot water bottles strapped to them). A tough match as always against Limekiln who are well used to Semi- finals unlike our men's team in only their 2nd year in competition. By the 4th inning GB were 19-3 ahead, however, you can never write the Dubliners off. They came back to finish the match 19-12 by never letting us get another run in over the remaining innings. Never the less we had done enough damage in the first few innings to secure our first ever All Ireland Men's Final. Straight up after was the mixed match again against Limekiln. A very tight match again which could have gone either way. We managed to keep a small lead through the match and ended on a score-line of 10-7 making it to our 3rd consecutive Mixed Final. Last up was the ladies (it had heated up at this stage thankfully). Another great game that saw our ladies start out slowly in the first couple of innings however we then settled in and managed to pull away. Erne eagles are always a great team to play and it was fantastic to see them back in a semi final again. The Ladies team were back to contest the final again for a 5th year running Barntown Gaels had one more match to play which was against Cuchulainn with the winner staying in the senior competition which the other team would play in the intermediate next year. the match took place on October 4th, safe to say the wettest day in history!! Miserable conditions which didn't help either team. It just wasn't to be for the Gaels who lost out on the day. They gave it everything, right until the final ball was caught. Next year will see us going for our first Intermediate title as we continue on this journey through Covid 19 we are grateful to all those involve with the Ard Comhairle for making the best we could of the 2020 season. All the time and effort that went into it was not easy. We look forward to the 3 finals whenever they may be and we thank all who stood up and helped the club in organising, training, coaching, counselling,and everything really.